Welcome Message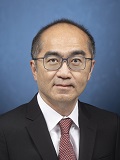 Government
Economist
Mr Adolph LEUNG
Wing-sing
Welcome to the website of the Office of the Government Economist
The Office of the Government Economist reports to the Financial Secretary, and provides updated information and analysis on the Hong Kong economy to the public. Our office also conducts evidence-based economic analysis with a view to rendering professional advice to Government bureaux and departments to facilitate their formulation of various policies and measures.
This website provides you with an overview of our role, organization and work. Our office also maintains the Hong Kong Economy website, which gives an account of the latest economic situation and publishes articles on various economic topics.
I hope you will find these websites useful and informative.
Note: The Office of the Government Economist, which is under the Financial Secretary's Office, was formerly known as the Economic Analysis and Business Facilitation Unit (EABFU). Having regard to the similarities in job nature, the Business Facilitation Division of the EABFU has been transferred to the Efficiency Office under the Innovation and Technology Bureau with effect from 1 April 2018. To reflect the change in organization, the EABFU was renamed as the Office of the Government Economist on the same day.